The Tick
(Patrick Warburton (2001) & Peter Serafinowicz (2016))
(Townsend Coleman (voice))



Aliases: I.P. Daley, Ted Glick
Quotes:

"Keen!"
---
"Beware naughty-spawn, you face... The Tick!"
---
"Why don't you pick on someone my size?"
---
"We'll cross that bridge after we've burned it."
Battlecry:
Cliches:

Big Blue Bug of Justice (5)


Nigh-invulnerable, oxygen independence with superhuman strength of ten, perhaps 20 men- a crowded bus stop of men and the reflexes of an Olympic-level jungle cat


Drama Power (3)


any situation is more dramatic just by his mere presence

Greatest power: "When destiny speaks, she speaks to me." (3)

"I am mighty! I have a glow you cannot see! I'm a heart as big as the moon, as warm as bathwater! We're superheroes, man! We don't have time to be charming! The boots of evil were made for walking! We're watching the big picture, friend.
We know the score. We are a public service, not glamour boys. Not captains of industry, not makers of things, keep your vulgar monies! We are a justice sandwich, no toppings necessary. Living rooms of America, do you catch my drift? DO... YOU... DIG?!"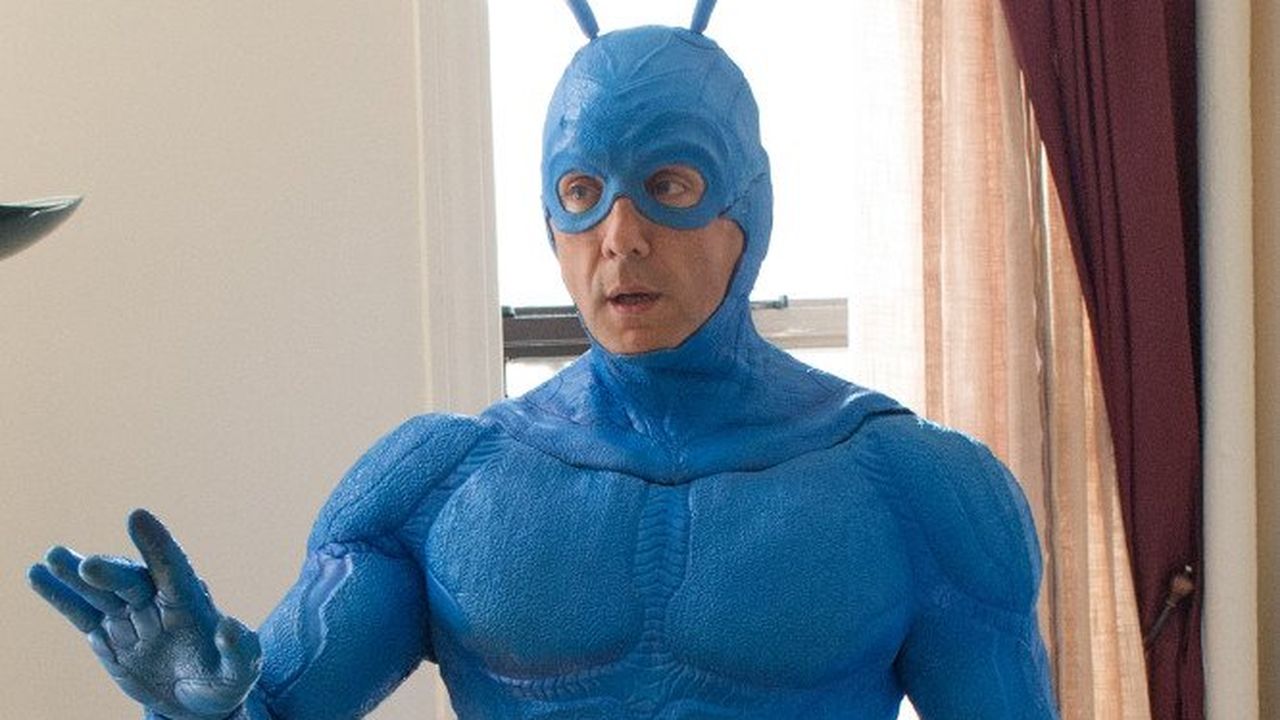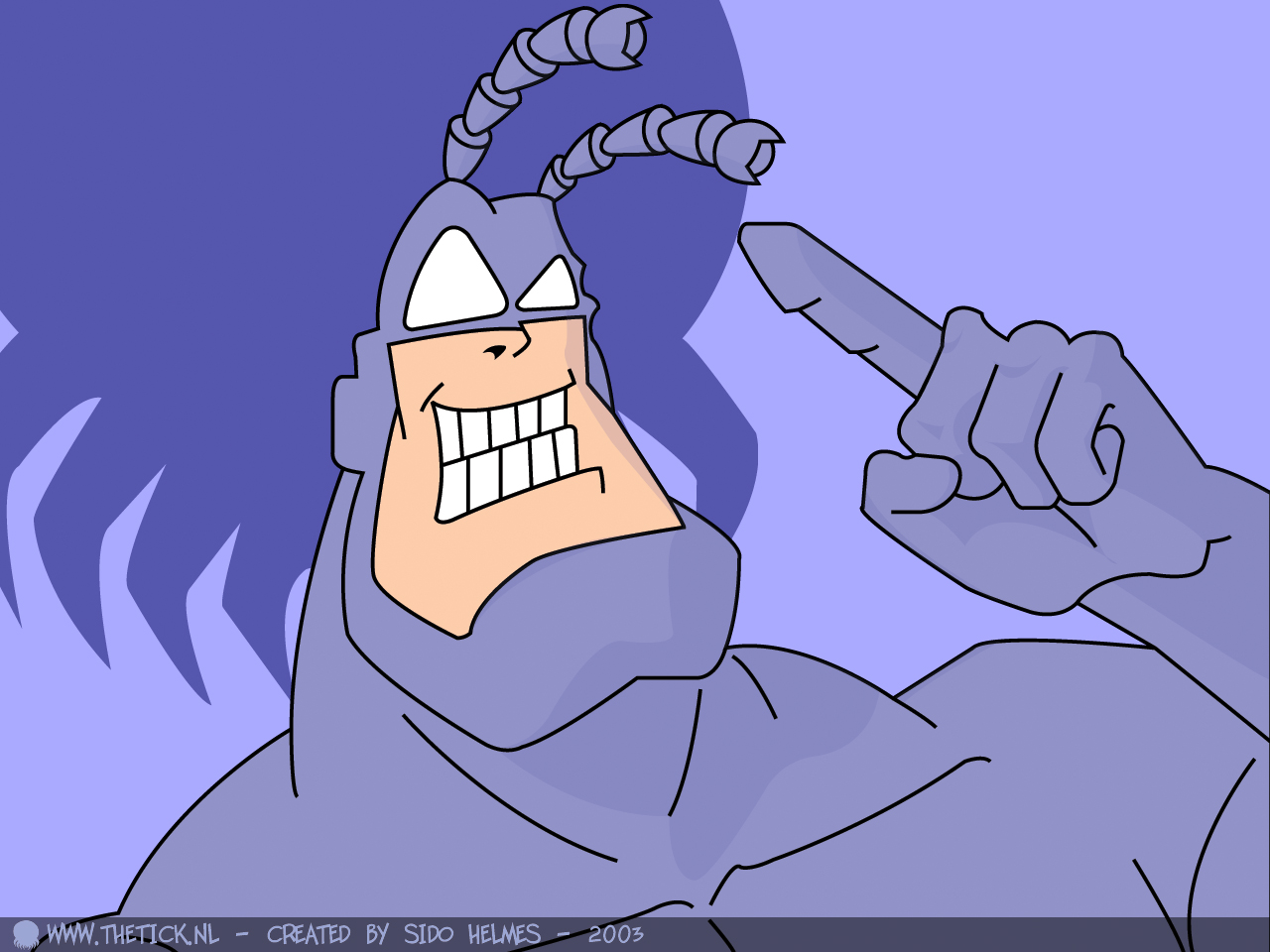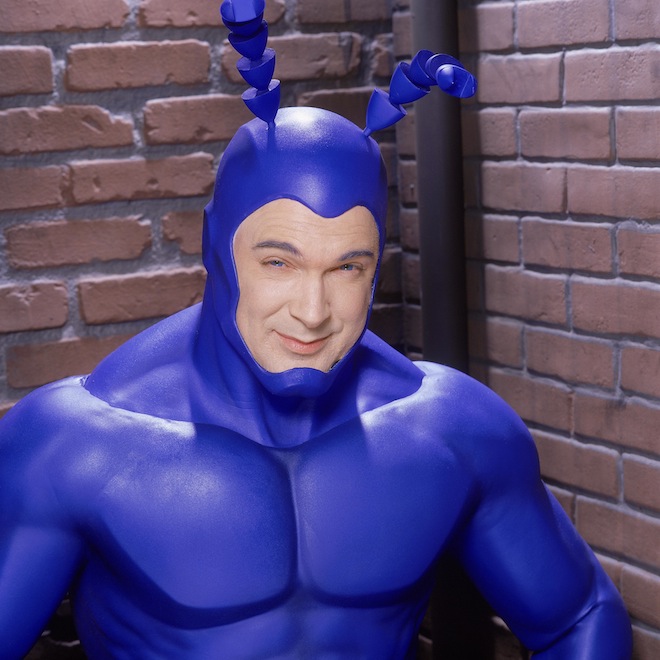 "Light against darkness. Up against down. A struggle as old as time, but with a beat you can dance to. And as the sun rises on a new day in The City, so rises a new hero. A precious balloon of hope girding his loins, making ready for the fight. He may be on the compact side, as heroes go, but that's just the way destiny crumbles her cookies. It's not supposed to be easy. It's not supposed to be comfortable. It's supposed to be dangerous. And interesting. That's the hero's journey. That's why they get up in the morning. To go mano-a-monomyth with the darkness. To win the elixir and save the world.

Because villainy is real. It has guns and scars and tattoos, and it's licensed to drive. It wants nothing but to murder and take. And it's coming for them all. So two new avengers take their place on the frontline. They will face evil with a song of battle in their hearts. Destiny's got her hand way, way up in their puppets. It's an unpleasant tingling. The deepest of wriggles. And its only reward... IS DRAMA!!! (gun shots) New plan."