(V) = Villain

E
E-Man:
Hero wannabe.
Earth Angel:
Female super duo with Glow Girl.
Earth Quaker:
(V)
Earthworm: Sightless tunneling hero, member of the Senior Citizenís Squadron.

Easy Girl: Hero wannabe. Former beauty queen, "easy on the eyes".

Echoleutioneer:
Hero wannabe that speaks with an echo.
Echo, The:
Eggbeater: (V) Super-villain armed with various trick whisks, an electric mixer and egg bombs. Member of The Bakerís Dozen.

Eggman:
The brainy partner to The Walrus.
Eggzorcist:
Eight:
Eight is a single consciousness in eight separate bodies. She/He is able to think eight separate thoughts concurrently. All of his/her bodies are honed to athletic perfection. He/She is overwhelmingly intelligent and knowledgeable on many issues. Member of
The Specials
.
18-carat Top:
Diamond-haired (it's actually cubic zirconia) wacky hero.
Elastic Band: Informal super-hero team and support group whose members all have stretching powers. Founded by the late Captain Elastic.

Elastimo:
(V)
Electronimo:
(V)
Electrothief:
(V) Criminal with electricity powers.
El Flamingo: Flashy dresser and member of the Monumental Men.

El Gaucho Grande: Mexican super-hero/cowboy known for his jumbo sombrero.

El Hombre:
Adult sidekick that works with the Chimichanga Kid.
El Marko: (V) Mexican super-villain with a huge crowbar mustache that is armed with huge felt-pen markers.

Elmystico:
Hypnotist building constructor that works with his lovely assistant, Janet.
El Ravager: (V) Mexican wrestler that has turned to a life of crime.





Elroyboy: Boy armed with a raygun and assisted by his dog, Astro.



Empress of Evil: (V)

Encephalopath: (V) Mind-bending villain.



Enviromen: Super-team lead by Captain Caveman with Chia Man.





Ertha Quake: (V) Armored powerhouse villain, sister to Irma Geddon.



Eskimo Boys Gang: (V)



Eurofag: (V) A homosexual bank robber with a penchant for leaving Hermes scarves and Pet Shop Boyís CDs at the scenes of his crimes.





Evil Eyes, The: (V) Evil team consisting of Eye Carumba, Eye Chihuahua, Eyecon, Eyelash, Eyeris, Eyesore, Captain Cataract, Gawkman, Mister Myopia and The Purple Peeper Eater. Student members are Peekaboo & Pupil. Almost all of the adult members claim to be the leader.





Evil League of Evil: (V) Led by Bad Horse, the Thoroughbred of Sin (not shown), Fake Thomas Jefferson, Professor Normal, Ghost Facer, Fury Leika, Snake Bite, Dead Bowie and Tie-Die.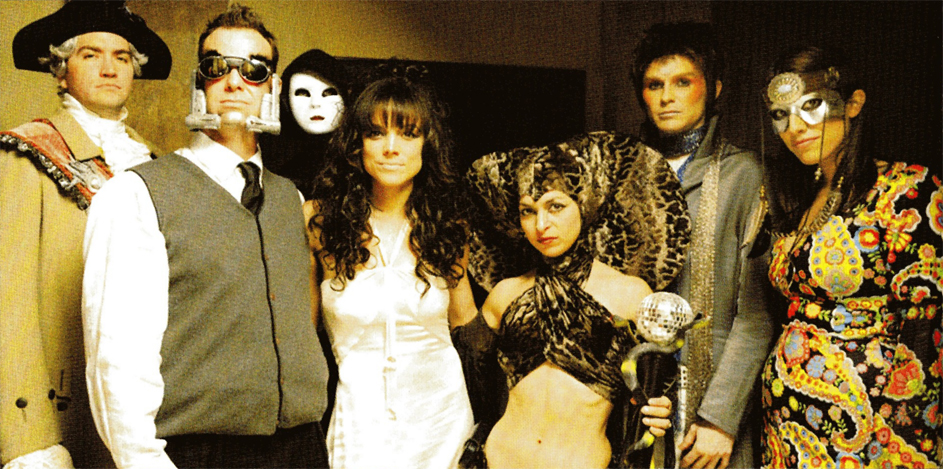 Evilsaurus: (V) Evil reptilian with a bad attitude.



Express Male: Charming super-hero and member of Priority Post.



Eye-Beam: (V) Evil energy projecting member of The Construction Crew.



Eye Carumba: (V) Evil member/leader of The Evil Eyes. His dog sidekick is Eye Chihuahua.





Eye Chihuahua: (V) Evil miniature dog and sidekick to Eye Carumba. Canine member of The Evil Eyes.



Eyecon: (V) Evil member/leader of The Evil Eyes.



Eyelash: (V) Femme armed with a whip. Evil member/leader of The Evil Eyes.



Eyeris: (V) Female seeress and member/leader of The Evil Eyes.

Eyesore: (V) Evil member/leader of The Evil Eyes.