Cabana Boy
: Sidekick to The Great Zamboni.
Cabin Boy
: Sidekick.
Cabinet Maker
: Hero wannabe.
Cabin Man
: Formerly Cabin Boy I, who grew up and tried an unsuccessful solo hero career.
Cable Guy
: (V) Former cable t.v. installer that is armed with lots of wiring and various gadgets.
Calendar Girls Gang
: (V)
Candy Cannibal
: (V) Master of crimes of candy and leader of the Candyland Gang. Usually followed around by his pet, Lollipup.
Candyland Gang
: (V) Semi-superpowered candy inspired gang that works with the Candy Cannibal. The gang members are: Almond Joyce, Bitch-o-Honey, Buttersfinger, Caramella, Cruncher, El Mentos, Jolly Ranger, Kitty Katty, Krackeler, Lemonhead, M&M Twins, Mikey & Ikey, Milk Dudley, Mint Junior, Mousseketeer, Mrs. Goodbar, Peppermint Pat, Pop Rocker, Raisinette, Ruthie Baby, The Skittler, Starburster, Tic & Tac, Tingy Taffy, Tootsie, Twixxie, Twizzler and The Whopper.
Candyman
: Super-hero armed with amazing candy weapons and gadgets. Teamed with Peppermint Patty.
Candystripers Gang, The: (V) Group of attractive women that are dressed like hospital candystripers.

Cape, The: Boasting the longest cape in the super community, this hero trips up crime.

Caped Cod:
Leader of the Monumental Men.
Captain Amazing
: Deceased internationally known and endorsed super-hero of Champion City. Brother to Captain Paragon & Captain Fantastik. Major Dad is their father.
Captain Amazing Robot(s)
: Built by Captain Paragon to replace his deceased brother.
Captain Atlas:
Leader of the Flag 5.
Captain Cataract:
(V) Evil member/leader of The Evil Eyes.
Captain Catfish:
Fishy member of The Replacements.
Captain Caterpiller:
Captain Caveman: Pre-historic hero that was revived from a frozen block of ice. He is armed with a stone club and his pre-historic senses. Member of the Enviromen.

Captain Cheerio: (V) British armed with a cereal shooting pistol he is dressed as a World War I army captain. Leader of The Cereal Killers.

Captain Combat: The master of combat both armed and unarmed.

Captain Contraption:
Captain Copy:
Captain Domino: Former pizza delivery driver that after smelling a super-soldier formula gained powers. Armed with a pizza box for a shield.

Captain Elastic:
Deceased hero. Formerly teamed with Stretchie Boy and a member of The Specials.
Captain Fantastik:
Lesser powered cousin to
Captain Amazing
and Captain Paragon. Major Dad is their father. Also a musician that leads the Brown Dirt Cowboys band.
Captain Freedom
: Naive masked avenger known for his inspirational speeches.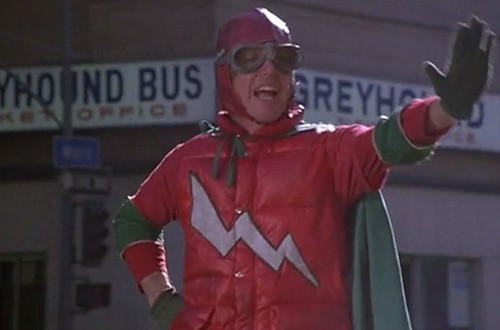 Captain Hero:
Hero that has appeared on the Comedy Central reality show, Drawn Together.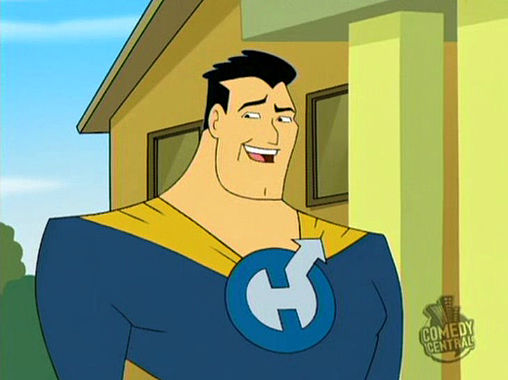 Captain Marble: Leader of the super Marble Super Family, which includes Mary Marble and Captain Marble Jr. All of them transform into superhero's by saying the magic word, "knockout".

Captain Marble Jr.: Teen hero that transform by saying his hero's name, Captain Marble. Member of the Marble Super Family.

Captain Kosher: Jewish hero that uses trick bagels and his wits to fight evil. Kosher Kid is his trusty sidekick.

Captain Invincible: Retired WWII era hero and member of the Super Troopers.

Captain Osiris:
Captain Paragon:
The "paragon of virtue", but is insufferably pompous, self-righteous and priggish. He's the perfect superhero, but nobody can stand him personally. Brother to
Captain Amazing
& Captain Fantastik. Major Dad is their father.
Captain Wonder: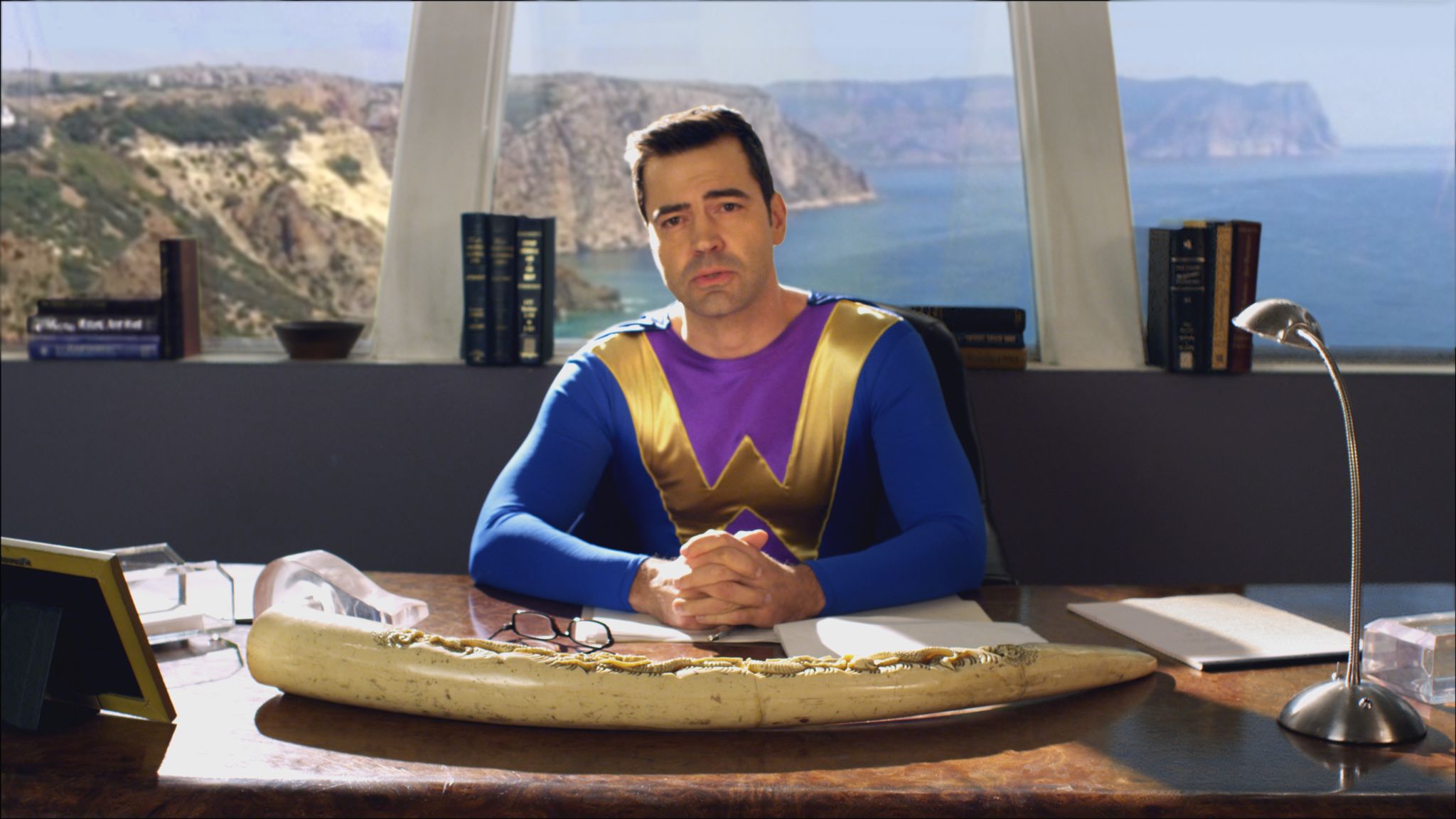 Captain Yesterday: Having superpowers and being from the past this hero is a member of the New Justice Team.

Carcimona:
(V) Evil smoking vamp, member of Femme Faction.
Cardiac Crooner:
Card Shark: (V) Shark headed well-dressed man that flings dangerous playing cards. Member of the High Rollers.

Catcher, The: Former big league catcher (jersey number 22) that switch-hits for justice.

Catnapper:
(V)
Cat's Grace:
Japanese teen triplet member of the Rising Sons.
Cattle Queen:
(V) Female rustler.
Ceramic Man:
Hero wannabe with ceramic armor.
Celery Stalker: (V) Murderous stalker that kills his victims with a piece of celery.

Cereal Killers, The: (V) Super team of deranged villains that work around a breakfast cereal theme. Members are Captain Cheerio, Fiberman, Specialty Kay, Trixie, Kix, The Lucky Charmer, and The Chex Commando.

Chauffeur, The:
Super sports car driver.
Cheeky Chimp: Animal sidekick to Junkyard Joey. Occassionally assisted The AniPals.

Cheerleader Gang:
(V)
Cheri Cheescake: (V) Super villainess of fashion that studied in Partisan, France.

Cherry Cheerleader: Enthusiastic and cheerful crimefighter that uses Powered Pom Poms. Member of The A-Teens.

Cheese Wizard:
Chex Commando, The: (V) Able to create up to 3 (Rice, Wheat, & Corn) versions of himself. Member of The Cereal Killers.

Chia Man:
Member of the Enviromen.
Chicory Warrior:
(V)
Chief Standing Pat: (V) American-Indian member of the Six Gun Gang. Can produce smoke signals with cigars.

Chimichanga Kid: Kid hero whose's sidekick is the adult El Hombre.

Chimmy the Flying Monkey: Retired WWII animal sidekick to Rocketman I.