Fanman: Hero armed with a parachute and a large fan attached to his back.

Fanboy:
Sidekick wannabe.
Fanny Flapper: (V) 1920's styled villainess, works with her lover, Johnny B. Badd and the Flapjacks Gang.

Father Doom:
(V) Super villain enemy to
Captain Amazing
that is in jail for life without the possibility of parole.
Fearless Ferret, The: Leader of the Ferret Family of supers with Wonder Weasel and Ferretgirl.

FemBots:
(V) Robotic female warriors made and sold by the Acme Co.
Femme Faction: (V) All women team of super-villains. Members are Bombshell, Carcimona, Gogo Girl, Hydro-Jenn and Wonder Wig.

Femme Five:
All women 8 member superteam consisting of Flashdancer, Flying Nun, Lady Lightning, Lightfoot, The Mighty Dyke, Rollergirl,
Sunlight Grrrll
and Super Model.
Ferret Family: Family of superheroes, led by The Fearless Ferret, Wonder Weasel and Ferretgirl.

Ferretgirl: Teen superhero, part of the Ferret Family team of superheroes, along with The Fearless Ferret and Wonder Weasel.

Fiberman: (V) Villain who's strength comes from his strict diet. Member of The Cereal Killers.

Fiddler Crab: (V) Classic violinist that commits crime in a crab costume.

Fiery Blaze:
Super duo with Friendly Fire.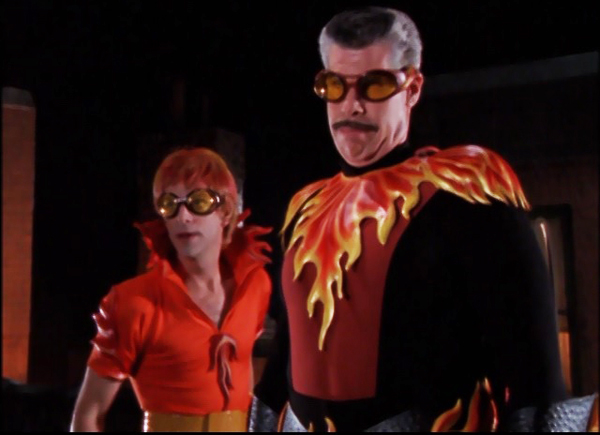 Fiery Flame: The original flame-based hero. Member of the High Fives.

Filibuster: Retired adult sidekick that guides the Sidekix. He had a difficult working relationship with his mentor, Colonel Constitution.

Fighting Pharaoh: Egyptian fancying hero that works with his son, Kid Tut.

Finagler, The:
(V)
Finisher, The: (V) Jack-of-all-trades practicing villain that can seemingly do anything.

Fire Dog:
Canine assistant to Uncle Slam.
Fisherman Gordon: The protector of the seas. His battles with Flying Fish are legendary.

Fish Boy - Lost Prince of Atlantis:
Sidekick.
Fish Man: Fictional tv super-hero that fights crime with his sidekick and teen ward, Guppy.

Fishwoman: Hero wannabe hero that carries a goldfish in a fishbowl that she is in telepathic contact with.

Firecracker: (V) Able to produce a loud firecracker for any occasion.

Fireman: Using a giant hose he projects water and assisted by his sidekick Sparkler. Member of The Force of July. His former sidekick was Lighter Lad.

Flag 5:
Led by Captain Atlas, team was killed by The Terror.