(V) = Villain

T
Taggers, The:
(V) Adult members of the Teen Taggers.
Tailor, The:
Talkie Tiki:
Aztec totem hero.
Tank Girl:
Unconventional anti-hero that drives a customized army surplus tank.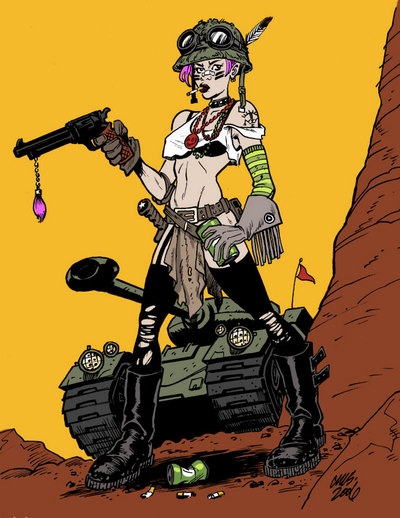 Tapeworm:
(V) Member of the Frankenstein Mobsters.
Tapiocio:
Tart, The: (V) Seductress that can entice men to a kiss and ultimately disable them with her taste flash. Member of The Bakerís Dozen.

Team Anarchy:
(V)
Team Teen:
Team Tool: Tool using super-team consisting of Ladder Lad, the Nailer, Plum Plumber and Wrencher.

Tea Totterer:
(V)
T-Bone:
(V) member of Dinerís Club.
Techno Turtle:

TechSperts:

Teen Taggers: (V) Former teen team thatís members have grown up and now go by The Taggers.





Teen Tusslers: The original teen superteam (now disbanded) consisting of Blastboy, Cabin Boy and Weevilboy.



Temp, The: Hero wannabe that is always on call.

Tenderloin: (V) Female member of Dinerís Club.

Thelma Tymepiece: (V) Assistant to The Timekeeper.

Thin Man: Stretching hero that is super-thin, almost two-dimensional.

Three-D Dame:

Thud: (V) Member of the Frankenstein Mobsters.



Tickler, The: (V) French villain that has powers of invisibility and ventriloquism. Has a tickling fetish.



Tigerís Paw: Japanese teen triplet member of the Rising Sons.



Timekeeper: (V) Evildoer obsessed with time and the keeping of accurate time. Works with Millie Second, Thelma Tymepiece and the Second Hand Gang.



Tinker Tyke: Toddler sidekick wannabe with a showbiz mom.

Tommy Gunn: (V) Villain that uses his special trick machine gun.

Toolman:

Toy Soldier: (V)

Trans Sister: Sidekick wannabe.

Tres Chicks:

Trin Kit:



Trixie: (V) Married acrobatic duo with Kix. Member of The Cereal Killers.



Troubladour: (V)

Tuber, The Terrible: (V)

Tubman: Obese hero that crushes his enemies.

Tuttlings Gang: (V) Egytian followers of Queen Tut.