A-Teens, The:
Heroic team of super teen-agers. Consists of Billy Duster, Cherry Cheerleader, Material Girl, Podboy, Slingshotette and Superkid.
Abracadaver:
(V) A former famous stage magician, Al Lusion who died when a trick went very wrong and he became a magic-using zombie.
Ace Aviator:
World War II era super-hero known as an ace pilot and marksman. Flyboy was his teen sidekick and co-pilot.
Action Rangers:
Action League:
Ad Agency, The: Super PR team consisting of The AD Man, Face, Pitchman, 30-Second Shot and Copy Boy.


:


"In a world full of super heroes,

they were The Additionals."




Ad Girl:

Former sidekick to Pitch Man, currently a member of the Sidekix.




Adjuster, The:

Sliderule wielding hero that uses logic to solve crimes.




Ad Nauseator:

(V)



Alien Orphan:

A crash-landed alien, he can mold his body into any shape, though not always perfectly. His green hue and freakish appearance is disarming to enemies. Member of

The Specials

.




All Starz Squad:





Ally McBaba:

(V) Female Arabic thief that runs the Forty Thieves Gang.




Amazing Trio, The:

Super group consisting of Gray Matter, Ms. Kittka, and Sumo Sam.




Amazo:

Hero wannabe.



Amelia: Little sister assistant to the villain Brainchild that likes butterflies.





American Woman:

Female super-acrobat and member of The Force of July.




Amok:

High school dropout and bad boy hero of

The Specials

. He can fly and blast anti-matter from his hands. Former member of the Sinister Swarm.




Anal Slug, The:

(V) Vile villain that travels through sewers and toilet pipes.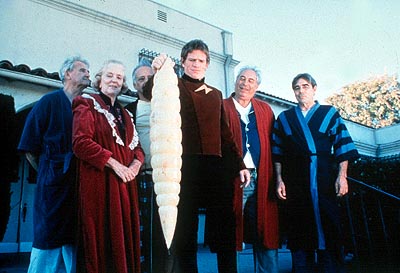 Anchorman: Strongman of the sea. Worked briefly with Paperboy.




AniPals, The: Occasional super team of super animal sidekicks. Cheeky Chimp, Draft Horse, Glide Dog, Heroic Hare, Incred-a-Bull, Kung-Pow Chicken, Mute Mutt, Pluto (deceased), and Rocky the Flying Rooster.



Anna Log:

Annihilators: Super-team with Waterman.

Answerman: Soothsaying super-oracle.

Antboy: Danish pre-teen wonder with the powers of an ant.



Ant Farmer: (V) Midwest super-villain that can talk to and control ants.





Anticipator, The: Hero wannabe. "I knew you were going to do that."





Anti-Evil Gang, The: Members consist of Avenging Aardvark, Gabfly, Hardcore Tommy and Putty Man.



Apache Chef: (V) Leader of the Diner's Club.



Aphid, The Astonishing: Member of the Senior Citizen's Squadron.





April Fool: (V) Evil female clown armed with a deadly seltzer bottle and balloon animals.



Apocalypta: (V) Super villainess enemy to Captain Amazing that is in jail for 50 years.



Apocalypse Cow: (V) 50 foot tall cow that shoots fire from her teats.



Aqua Velvia:

AristoCat: (V) High society cat cat-burgler.



Armagezzmo:

(V) Super villain enemy to

Captain Amazing

that is currently in exile.


Artiste, The: Art connoisseur and mystery solver.

Astro: Dog sidekick to Elroyboy.



Astroknight: The 21st Century knight with futuristic armor and a laser lance. His former sidekick was Sprocket.



Attaboy: teen sidekick to The MidKnight.

Atomic Abalone: (V)

Attila the Hen: (V) Evil chicken.

Auntie Villainy: (V)



Avengers of Antiquity: (V) Evil group of super senior citizens. Consists of Baron Barracuda, Baron Black, Brainwasher, Deceptor, Picklador and The Sizzler.



Avenging Aardvark: Member of the Anti-Evil Gang.



Aviarius: (V) The flamingo of doom who is armed with heatseeking hummingbirds in his quest to become the dark master of the winged.